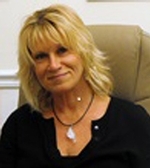 239 464 0515 (Direct)
(239) 217-7417 fax
239 464 0515 cell phone

[email protected]
Visit My Website
3624 Del Prado Blvd. S, Suite A
Cape Coral FL, 33904
Receive Email Alerts from Me
Whether you are new to Southwest Florida or have lived here for years, you'll want a professional Real Estate Consultant who can represent your best interests. 
I received my first Real Estate License in PURE Michigan in 1980 and specialized in both Oakland & Wayne Counties.  
I have been Licensed in the State of Florida since 2002 serving beautiful Lee County and have the honor of receiving Top Sales Awards for each year since.  Many friends, relatives and past clients have allowed me to help them transition out of the cold weather from northern states and Canada too, whether it be year-round living or a winter getaway,  
My designation of CNE-Certified Negotiations Expert, equips me with solid tools to help you achieve your real estate goals.
It has been my honor to have been nominated in GULFSHORE LIFE MAGAZINE''S TOP 5 STAR PROFESSIONAL IN SW FLORIDA for 9 years to date. 
My passions are helping the "less fortunate" or the "underdog" sometimes quite literally as I volunteer with numerous Animal Welfare organizations locally, nationally and Internationally and in small part volunteering in helping Cape Coral open their first shelter set to break ground in 2018. 
The majority of my clients are loyal returning clients or are referred to me through past clients over the years. What a thrill to be able to help folks succeed by simply doing what does my heart good!
Christine Million 's Listings
Listing Courtesy of: Florida Complete Realty
My Testimonials: