Address: 375 Sanctuary Road West, Naples, FL 34120
Phone: (239) 348-9151
Hours: Open 365 days a year, 7am-5:30pm
Admission:
Adult: $14
College student with ID: $6
Children: $4
Children 6 and under: FREE
General Information while vising:
Take photos and memories only
Recommended to bring water, bug spray, binoculars and a camera
Silence cell phones
To see/hear more wildlife, keep your voices low
Rules of the Boardwalk:
No food
Quiet please
Animals and plants are protected
No smoking
Stay on the trail
Do not feed the wildlife
No pets
Do not litter
Do not harass wildlife
Children must be supervised
Leave trail during high winds or lightening
Please walk
Link: http://corkscrew.audubon.org/visit/plan-your-visit
Corkscrew Swamp Sanctuary Information pamphlet: Audubon Corkscrew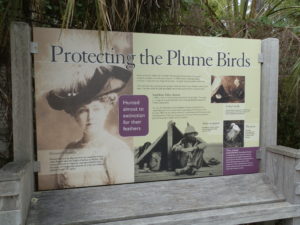 History of Corkscrew:
Pluming:
In the 1900's, egret and heron plumes were in high demand for use in the fashion industry. This was quickly devastating rookeries throughout Florida, especially at Corkscrew.
By 1913, Rhett Green, whom was deputized as warden by the National Audubon Society to guard Corkscrew rookery, had begun guiding those who were documenting the birds at the sanctuary.
Link to a free copy of Rhett Green's book: http://www.gutenberg.org/ebooks/21007?msg=welcome_stranger#img-208
Logging:
Logging of South Florida's Cypress began in 1944. Much of the lumber went to rebulding after WWII. Massive 500-year-old trees were uprooted.
By 1954, 5,860 acres were secured and became the Corkscrew Swamp Sanctuary.
Two year later, 5,320 acres were added
Now, it expands to over 14,000 acres
More info visit: http://corkscrew.audubon.org/about/sanctuary
Further information about the early days of the sanctuary and its ecology read:
Corkscrew's Boardwalks: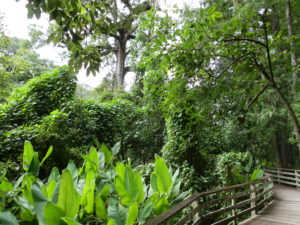 Wilderness dates back 500 years
2.25 mile boardwalk takes visitors through pine flat woods, wet prairie, around a marsh, and finally to the largest old growth of Bald Cypress in North America
Bald Cypress, relatives of the redwood, reach 130 feet into the air and have a girth of 25 feet
http://corkscrew.audubon.org/about/about-corkscrews-boardwalk
Animals and Wildlife:
Corkscrew Swamp Sanctuary is primarily composed of wetlands. It includes the site of the largest nesting colony of the Federally endangered Wood Storks in the nation.
This is a very important habitat for many animals including the Florida panther, American alligator, gopher tortoise, Florida sandhill crane, limpkin, roseate spoonbill, snowy egret, tricolored heron, white ibis, big cypress fox squirrel, and the Florida black bear.
Rare plants are found here including, most notably, the ghost orchid. Corkscrew provides an imperative connection for wildlife and water to coastal habitat. Wetlands recharge the local aquifers, rivers, and estuaries.
Education at Corkscrew:
Over 150 Partner Educators are currently trained and delivering programs in coordination with Corkscrew naturalists. Includes 2nd grade insect adventure and 5th grade wild Florida adventure.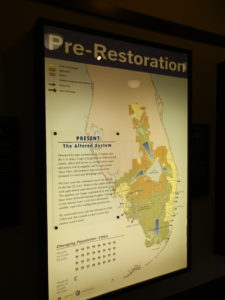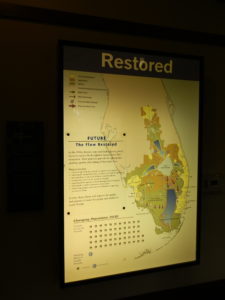 Programs and Events:
Info on guided walks: http://corkscrew.audubon.org/programs/guided-walks
Info on Corkscrew after hours: http://corkscrew.audubon.org/programs/corkscrew-after-hours
Special Events & Festivals: http://corkscrew.audubon.org/programs/special-events-and-festivals
Citizen Science: http://corkscrew.audubon.org/about/citizen-science
Corkscrew Swamp Walks: http://corkscrew.audubon.org/programs/corkscrew-swamp-walks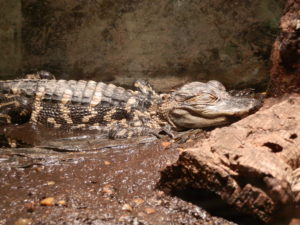 Blair Audubon Visitor Center is environmentally friendly and solar powered.
At the center:
Donate: https://act.audubon.org/onlineactions/DGbT6uNuVkiWcVzIk8zDcA2?ms=giving_page_51
Become a friend of Corkscrew: https://act.audubon.org/onlineactions/LmzMEUzRu0SyteTN9ZWGGQ2?ms=giving_page_105
Information and youtube video provided by: http://corkscrew.audubon.org/
Keep up to date by following Corkscrew Swamp Sanctuary on Facebook: https://www.facebook.com/CSS1954/
Photos by Shanna Weber